Dos Bahias Lake Resort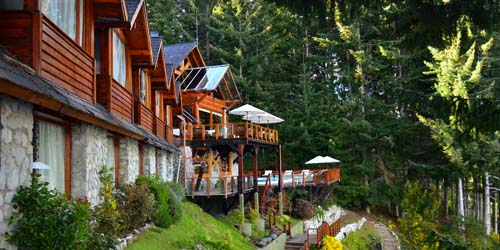 Dos Bahias Lake Resort is located in Puerto Manzano Peninsula over the shore of Nahuel Huapi Lake, with a beautiful landscape made in the wood, between lakes and mountains that allowed the guest enjoy the charm, the colors and the sensations of every season of the year.
We are located at 7 km. of the Villa La Angostura Mall and at 3 Km. to the way to the Sky Boutique Center Cerro Bayo.
The International Bariloche Airport is about 80 Km. from the hotel and our company offers transportation service to take you in or out if the guest ask for it.
We have three different cathegories of rooms and all of them with an incredible view to the lake and to the mountains, where you can enjoy all of the magic of this Patagonic place. Rooms are decorated with elegance and such a good taste, there´s WIFI, satelital Led TV, Safety deposit box, DDN/DDI. Dos Bahias Lake Resort has a spa area, Scottish shower and a sauna bath, heating indoor and outdoor pools and a Jacuzzi inside bedrooms. Dos Bahias Lake Resort provides the guest, body massages treatments and beauty body care with special people that work with us.
Dos Bahias Lake Resort provides a restaurant with gourmet kitchen and Mediterranean food with a large kinds of wines from all over the country, especially from Cuyo area.
Our services
Private garage
Minibar
Bathtub
Safety deposit box in every room
Central heating
Currency exchange
Free WIFI
Outdoor gardens
Private beaches in Nahuel Huapi Lake
Indoor and Outdoor Pools
Private dock in Nahuel Huapi Lake
Check in 24 hr
Restaurante. Lunch and Dinner every day
Special Menu for kids, diabetic, vegetarian and coeliac people
Bar and coffee services
Snack bar
Room service
Bath robe available in every room
SPA/ Sauna and Scottish shower
Massages
Laundry and Ironing services
Transportation from and to the airport and/or renting a car services
Lobby with a fireplace
Outdoor activities
Fishing and aquatic activities
Wide decks in front of the lake
Phone with DDN/DDI
Terraces with solarium with a great view to the lake
Entertainment
Sky in Cerro Bayo
Snowboarding
Kayak
Trekking
Fishing
Canopy
Mountain bike
Diving
Climbing
Riding/li>
Riding bikes